At Hands of Gold Chiropractic, we take great pride in providing the finest chiropractic wellness care to our patients. Below is a sampling of the different chiropractic services we offer in our Bay Ridge, Brooklyn office.
---
Chiropractic Care

Non Surgical Spinal Decompression

Cox Technique Flexion Distraction Decompression

Low Tech Rehabilitation and Postural Corrective Exercises

Mechanical Adjusting - no twisting or cracking

KinesioTaping

Cold Laser Therapy

Graston Technique and Gua Sha therapy

Spinal Screenings and Scoliosis Protocol Rehabilitation Exercises

Physiotherapy (Heat, Ultrasound, Electric Stimulation, Mechanical Traction & Massagers)
---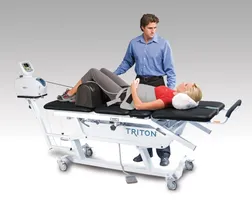 Spinal Decompression Therapy
Spinal Decompression Therapy is a nonsurgical treatment where the spine is mechanically stretched and relaxed intermittently in a controlled manner.
---
Cox Decompression Therapy
Cox Technic is non-surgical, doctor-controlled, hands-on spinal manipulation performed by Dr. Peloquin with the patient lying on The Cox Table. This table permits the effective administration of flexion-distraction and spinal decompression adjustment and manipulation.
Well-researched and documented, flexion-distraction and decompression helps relieve spinal pain and return patients to their desired quality of life by …
dropping intradiscal pressure
widening the spinal canal foraminal area
reducing pressure on the spinal nerves
returning motion to the spinal joints
---
Mechanical Adjustments:
Dr. Jason Peloquin also incorporates mechanical adjusting instruments into his practice. Perfect for the pregnant patient, sports injury patient or even that patient who might be nervous their first visit.


---

Chiropractic Care
We provide advanced spinal correction utilizing "state of the art" chiropractic techniques. Never in the history of chiropractic have we been able to provide the level of help and expertise that now exists. These newer correction methods are even safer, more comfortable and more effective than ever before. As a Doctor of Chiropractic, Dr. Jason Peloquin has years of training and experience in spinal adjustment.
---
Corrective Exercises
We teach our patients special "blueprint" exercises designed just for them to help strengthen and correct their own unique problem. These exercises can be performed in the comfort of your own home and can improve the effectiveness of your spinal correction by as much as 30-40%. In addition to skeletal misalignment, muscles and connective tissues can be out of place or strained by improper alignment and use. Specific exercises and stretches can help your body stay in balance and in health.
---

Postural Screenings
Posture and spinal screenings can reveal important health information and unlock the door to improved health and well-being. We provide screenings at area malls, community events, health fairs and places of employment. Contact us today to arrange a screening at your event or workplace.